In AWG, we design each of the different steps to be a meaningful experience

–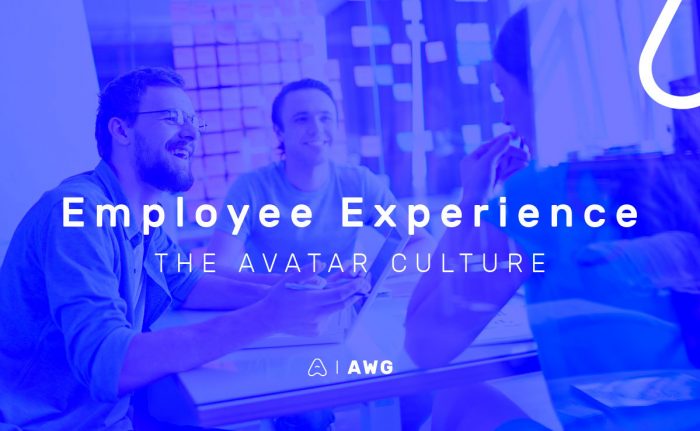 One of the most relevant topics regarding the culture and people in the organizations is the employee experience. Nowadays, the concept of experience is visible in different areas. Marketing, communication, human resources, tourism, technology are some areas where this notion has a strong influence.



But what we talk about when we talk about employee experience… It's what the employees see, live and perceive during their permanency at the organization.In conclusion, includes the most general aspects to the smallest details. Certainly, it has become a powerful topic to discuss in the planning of the strategies. We can't deny the importance of it. From the recruitment to the onboarding. All stages might be taken into account.

In AWG, we design each of the different steps to be a meaningful experience. We share with you an overview of our main actions:

Recruiting: During the process, we communicate our vision, mission and values to help in the understanding of the company. We aim for long-term relationships, that's why we make sure that the profiles that enter AWG are people who will be empowered alongside us.

Onboarding: We seek that the adaptation curve is constant. We have many employees in different regions, and that is why we learn daily to feed back our culture with that of other countries. In addition, we make sure that they know the company and its members from day one.

Benefits & Education: For us, the wellness and development of our collaborators and their families are a pillar in the plan. Therefore, we prepare the benefits plan by listening one by one to all our employees. Health insurance, a unique benefits program, courses and workshops, time flexibility,  special gifts and surprises, and much more.

Special events and actions: Time to enjoy and connect with others! Cooperation and fellowship can be boosted in recreational activities and events. We design the event's calendar to generate connections between colleagues and to strengthen  the culture of AWG.

Our commitment is to create an experience that engages, inspires and motivates our collaborators. This has a direct impact on productivity and the achievement of organizational objectives. We are proud of our team, and we strongly believe that the best way to demonstrate is in creating the best experience for them.

You can also read:

Follow us >