As we do it every year, this 2020 we participated in Mobile Summit Argentina.

–
On August 19th we participated in the 2020 edition of Mobile Summit Argentina, an event that takes place every year in the city of Buenos Aires.
This time, the particularity it's that the event was 100% online for the first time in its history.
Our CEO, Juan Francisco Di Nucci, was a speaker at the event, representing our company and talking about our experience with 5G technology.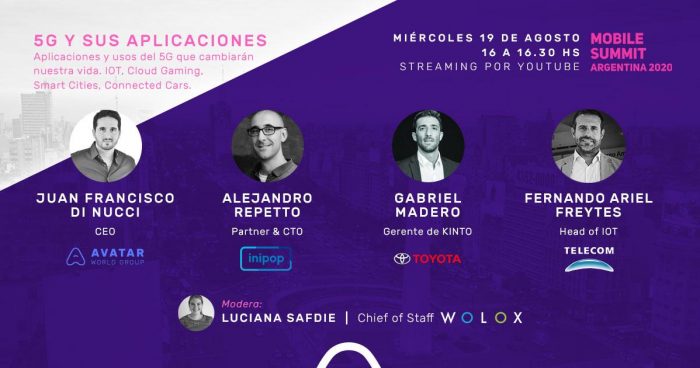 In the panel, he was accompanied by Alejandro Repetto, partner and CTO at Inipop; Gabriel Madero, manager at Toyota Argentina; Fernando Ariel Freytes, head of IoT at Telecom; and Luciana Safdie, chief of staff at Wolox.
They talked about 5G, its applications, and how this technology will change our lives. IoT, cloud gaming, smart cities, and connected cars were also among the subjects that were discussed.
Boosting digital transformation
Due to the COVID-19 pandemic, in the last four months, digital transformation was boosted fast and furiously.
This is why this year's Mobile Summit Argentina was about how our digital lives have changed in the last few months, and how they will continue changing amid the accelerated digital transformation the entire world is going through.
About Mobile Summit Argentina
The Mobile Summit is an event organized by Asociación Móvil Argentina (AMA).
Every year, the event is a showcase to show the experiences and points of view of industry leaders and experts, who demonstrate the opportunities generated by mobile technologies.
Mobile technologies are constantly changing, this is why the summit discusses the critical points in today's industry.
Also explains how technological advances are transforming the possibilities of tomorrow, and demonstrates how brands can improve their mobile approach.
You can also read:

Follow us >